Online Courses
Learn custom sewing, pattern drafting, and fitting online with Skirt Skills!
As a beginner to garment sewing, you'll learn to design, draft, create, and complete perfectly fitting skirts with personal help and guidance from the instructor and an online community of classmates.  
The next 5-week session of Brooks Ann's unique interactive Intro eCourse begins May 1, 2017.
REGISTRATION IS NOW OPEN! Due to the personalized nature of the course, space is limited!
Smarty Pants is the second in a series of custom sewing and pattern drafting eCourses with Skirt Skills as its prerequisite.
If you've completed Skirt Skills, keep an eye on your inbox for more details. If you haven't, visit www.SkirtSkills.com and join the Skirt Skills mailing list to learn more about the prerequisite intro course!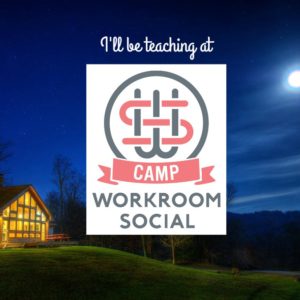 Camp Workroom Social
I'm teaching Couture Hand Sewing Skills at Camp Workroom Social!
Camp Workroom Social is a 4-day sewing retreat for adults, featuring contemporary experts in apparel sewing and style.
WHEN: October 13-16, 2017
WHERE: Frost Valley YMCA, a summer sleepaway camp located on over 5,000 acres in the heart of the Catskill Mountains, just 2.5 hours north of New York City.

Private Lessons and Fittings
Individual custom sewing instruction tailored to your skills, interests, and goals. Professional fitting and sewing advice for your personal sewing projects.
$40/hr at my Hillsborough, NC Sewing Room
(First lesson? Get 30 minutes free!)
Email me to ask questions, get more info, or to get started. Email@BrooksAnn.com
JOIN MY EMAIL LIST for blog posts, news & updates sent right to your inbox, and a bonus "
Peek Inside my Library
". Interested in updates specifically about online courses?
Join the Skirt Skills mailing list here
.
Praise for Skirt Skills…
"Brooks Ann teaches a sewing class that offers the exact methodical approach that I had been looking for for ages.

"Watching her videos, it is apparent that she has earned a solid education and many years of experience in her field. I feel like, she has put a lot of thought into how to pass on her knowledge and it was my experience that she makes an effort to ensure that every one of her students will walk away with a sense of achievement. And she so obviously likes what she's doing which makes it so fun to learn from her." – Babs

(excerpts from an in-depth online review of Skirt Skills Babs wrote on her blog)
"Whether you are a beginner at sewing or seeking to take your sewing "up a notch", Skirt Skills is a must!

Brooks Ann divides the lessons in easy-to-consume segments, and gives thorough instruction not only on the mechanics of garment making but also on "why" certain techniques work. Learning how to create custom garments with quality materials has changed the way I view clothing…and myself: well-fitting clothes are such a confidence booster! I LOVED this class!" – Lenore
"I feel like I more than got my money's worth with this course.

Brooks Ann is a great cheerleader, encouraging us to try things and see what happens. I love the new techniques I learned, and it will definitely change the way I sew.

I'm getting so much more than just a skirt from this class. I feel like I'm getting a really good understanding of how patterns and design work together. I now have the confidence to take what I've learned here and, with my own research and imagination, make whatever I want." – Terri
"For years, I've been so apprehensive and scattered that it took me forever to finish a sewing project.

Not to mention a lot of stress, confusion, and seam ripping! From day one of Skirt Skills, I was left with clear knowledge of how to begin a project and maintain clarity and focus throughout. It was an incredible feeling! What followed was the most perfectly structured and organized class I've ever taken.

The flow of the course material made it so easy for me to understand and gather the correct information to make my garment with easy relaxed adjustments. The confidence and clarity Brooks Ann has given me through this class has made sewing fun, easy, and even relaxing. And every skirt my classmates posted looked incredible on them!" – Katie
"I love my curves, but shopping makes me feel horrible about myself.

Going through this process without size attached to it as been revelatory. Learning to sew for my body is, for me, a great act of self-love. Thanks to Brooks Ann, I finally feel confident that I can design and make clothes that really fit me instead of just accepting what's on the rack. Skirt Skills is an amazing gift. – Shannan
"Even though I have been sewing for many years, I learned so much in this wonderful class!

The way Brooks Ann explains everything in detail really shows how much she loves sewing and cares that her students do too. I have to admit that I teared up a bit while watching the last video. I didn't want it to end." – Marie
"I've used commercial patterns for years and consider myself a skilled seamstress and a designer at heart. But the designs in my head never came out the way I wanted because they didn't fit.

I have pinpointed many ways in which my body is unlike the commercial standard, but struggled to accommodate those differences. All my research about pattern drafting and alteration seemed complicated or assumed too much.

Brooks Ann took me right back to the drawing board and explained a completely new method of sewing! In clear basic terms, she taught me how how to transfer my body to paper and then to fabric. Several times during the video lessons, I laughed out loud at how straightforward and sensible her method was! She is also incredibly supportive and knowledgeable, while giving tremendous leeway for my own creativity.

I can finally use the knowledge I've gathered over the years to enjoy my sewing and be truly satisfied with wearable results. Skirt Skills gave me the starting point – and taught me so much more!" – Anne Marie
"I was excited about Skirt Skills after reading a huge amount of positive reviews, but wondered 'is it too good to be true?' I now feel just like the people who wrote about their great experiences!

I've learned that even if you think something is daunting and intimidating, and even if you've already struggled endlessly, it doesn't have to continue to be that way. You can learn and get great results with the right knowledge from the right person. You don't have to wait for many years to fit your own patterns and sew something well made!

Brooks Ann has a positive and approachable personality and her methods are logical and easy, not intimidating or stressful, making the whole experience a joy. I consider myself very lucky to have had this opportunity to work with Brooks Ann and to join the others who highly recommend this course!" – Rudaina
"I am an accomplished seamstress, but thought I could benefit from a more methodical way of making something using my own pattern. I highly recommend it!

Brooks Ann makes you feel like she is right in the room with you, and no matter how long you have been sewing, you will learn something new. Warning: you may find yourself wanting to spend all your time making new skirts! This class makes it addictive!"  – Becky
"Outside of the actual mechanics of the skirt-making process, what has really stuck with me is how much I learned when taking my measurements.

It was eye-opening to look at my numbers and start understanding why certain clothes fit me better than others (even when they're marked as the same size). This part of the pattern drafting process felt really body-positive, which is not a feeling that I've ever associated with getting measured." – Jen
"Skirt Skills is set up so an absolute beginner can use quality fabric the first time and make a stunning skirt that truly fits.

That said, I've been a home sewer for years and never got the pattern alteration thing worked out to actually trust my effort. This class changed all that in a big way. No more guessing, ever! So you experienced sewers, take note.This class is for you too.

And did I say you'll come to appreciate and enjoy hand sewing? Just wait, you are in for a treat! I loved this class and Brooks Ann's teaching style! Highly recommended."" – Deb
"Skirt Skills is the BEST course ever, with easy to follow video instructions and superb class interaction with the other students.

I joined because after countless trials and errors, books to refer to, websites to look at, evening classes to attend, Craftsy courses to subscribe to, hopelessly inadequate muslins and STILL no real understanding of how to make a skirt to fit my shape, I stumbled across Brooks Ann's class. Within 5 weeks of incredible teaching and interaction with the group of like-minded ladies, I made a skirt that I was thrilled with. I loved the class so much!" – Debbie
"Skirt Skills was a wonderful experience for me. The lessons are incredibly thoughtfully designed and fun to watch.

Although I had some experience sewing from patterns before the class, I learned so much in Skirt Skills about how patterns work and sewing construction techniques. I loved bringing my skirt idea to life. I'm already working on my next design!" – Tracy
"When I first was thinking about signing up for the class, I wasn't sure. I'm not that into skirts and it seemed like a lot of money.

But by the second week of class I had already learned so much that it had more than paid for itself!

I had decided after I had kids, and my body became something very non-"standard", that it just wasn't worth the effort to attempt to make my own clothes. After working with Brooks Ann, I'm extremely excited that I can start sewing for myself again!"- Michelle
"I can't recommend Brooks Ann's skirt class highly enough!

Her pattern drafting method is unique in that it takes your body's volume into account, not just the numbers on the tape measure.

Her teaching style is fun and easy to understand, and my skirt block fit beautifully on the first try. Her construction examples make things easy for a beginner sewer to understand, but include tips and techniques that satisfy even an experienced sewer like me." –Marie
"The quality of Brooks Ann's Skirt Skills was truly amazing.

It has to be the most organized & well thought out course (online or in person) I have ever participated in!

Not only can I now create beautiful well-fitting skirts, I have taken the knowledge learned and 'tweaked' ready-made garments for a perfect fit. I can't wait for Smarty Pants to continue to take my knowledge, craft, and hobby up a notch!" –Paula
"Skirt Skills was the tallest, coolest, most refreshing drink of sewing education I have ever tasted. I have found my Jedi Master."

"This is the sweet spot of handmade wardrobe building I have fantasized about."

"I am now living with the epic level of satisfaction that comes from investing time and money to learn a skill that has systematically blown my mind into a million tiny pieces of creative possibility."… – Najah

(excerpts from an in-depth blog post Najah wrote about her experience in Skirt Skills)
"This is a brilliant course and I loved every moment!

Brooks Ann is an absolute angel and her lessons and teaching style are totally addictive, thought-provoking and inspiring. Even as a beginner, I can now start wearing clothes that make me feel like the real me. I've made the most comfortable skirt I have ever worn and I am now addicted to the idea of banning ready-to-wear skirts and making my own instead!" – Debbie
"I learned more about fit in this course than all the Vogue sewing books, back issues of Threads, and confusing conversations with my mother combined." – Elle
"This class has done more than spark an interest in pattern drafting! It's more like a forrest fire! I had no idea I would enjoy it so much.

I had basically stopped sewing garments because I could not get the fit down, and started quilting (I think a lot of people start quilting to avoid fitting). Brooks Ann has opened up a whole new and exciting world for me!

Thanks to this course, I am no longer at the mercy of the ready-to-wear industry or even the pattern companies! I can create what I like, in fabric and colors I prefer. I can celebrate my curves with clothes that fit! I do not have to feel ashamed of my body because it is outside the norm. I can't say enough about how much I enjoyed this class!" –Paula
"This class has it all……….and the very best part is the instructor.

Brooks Ann has the unique ability to teach all levels while keeping you engaged and on track. She is the real deal- knowledgeable, informative, engaging and 100% accessible.

I highly recommend this course for the beginner who wants to gain confidence all the way up to the experienced sewist who wants to tune up their skills. The videos are the best I have seen and will be an essential tool that I refer back to over and over, making this course an exceptional value.

And don't worry if you are not a skirt wearer- I literally did not own a single skirt when I signed up for this class and now I envision having a closet full!" – Jennifer

(Jennifer also wrote a review of Skirt Skills on her blog.)
"Almost every day of class, I had an OMG-this-is-going-to-change-everything moment!

I've used the sewing methods my mother taught me since the 70s, sometimes quite successfully. But I have always had to alter patterns, I've always hated that step, and the older I get the more adjustments I have to make.

Brooks Ann's course has given me a whole new approach to designing and sewing clothing that makes the development process more enjoyable and the finished product more satisfying." – Ruth
"I haven't taken any other apparel sewing classes before and now feel spoiled because I know I started with the best class!

Making a block of myself and using it as a pattern to make other clothes really taught me the inner workings of how garments are put together. At first, I thought I would use my block along with purchased patterns but now I'm not sure I need to even go there. I love drafting my own!

Skirt Skills also went over useful basics like zippers, hems, seam finishing, moving darts around, etc., that puts a newbie in a good position to be creative yet confident. The videos were perfect and Brooks Ann's instruction and tips were clear and easily understood. I don't think I ever had a moment where I said to myself, " huh?" Haha anyway, a whole new world has opened up to me and look forward to using my creative juices!" – Amy
"I admit I was a bit worried about the cost in the beginning, but it has been well, well, well worth it.

Brooks Ann did an amazing job illustrating techniques to a very basic sewist like myself. How she packed so much valuable information into 5 weeks, I have no idea! Every video was useful. I gave up on skirts after trying on an infinity of them at the store, only to come away with the impression that my body did not like skirts. My custom skirt fits like a dream! This course has been a revelation." – Wendy
"Learning from Brooks Ann was like a cool drink of water in a hot desert, life changing.

The format of Skirt Skills is like she is holding your hand guiding you step-by-step in creating the shape of you into a 3-D structure of threads and fabrics.

I loved the expert techniques, informative history of fabrics, and the bonus links/resources, but the best was listening to the soft, humor-filled smiles in Brooks Ann's voice. I loved this course and I feel fabulous in my custom skirt." – Zaniab
"Brooks Ann's method is fantastic!

I learned pattern sewing about 50 years ago from my Mom, and I have absolutely loved learning clothing construction from a new perspective! The instruction is clear, the demos are appropriate to the techniques, and her fun-loving style is a joy!"  – Meg
"Skirt Skills really changed and expanded my perspective on sewing!

To be honest, I wasn't sure if I wanted to take this course at first, but now I'm extremely happy I did!

Brooks Ann, with her ever wonderfully encouraging personality, has a unique method for making your own skirt that truly fits. Along the way, she also helped me discover the joy of sewing in tasks that I would otherwise overlook. Highly recommend!" – Allison
"This course was more than expected. Way more.

It promised to teach us how to make skirts that fit. Honestly I didn't think that was realistic. (We're all so…bumpy!) Brooks Ann not only taught us how to make skirts that fit, and how to make the pattern from scratch, but she taught us a whole new way to sew!!!!!

I'm a newbie, but I've read tutorial after tutorial and haunted sewing blogs and bought sewing books and have been through all the sewing books in my local library. I've never seen anything about half of what I learned in Skirt Skills. Brooks Ann has made me a MUCH better sewist." – Wendy
"I just loved this class! It has given me confidence in tackling clothes for my body once again.

For years I have been very frustrated with commercial patterns that promise beautiful clothes but deliver items that need major alterations before I can wear them. My sewing skills are good and well-honed; I just had no way to look at a commercial pattern and know what to change or how to change it to fit me. After taking Skirt Skills and listening to Brooks Ann's patient and detailed instruction, I am certain that the skirts I make from the pattern block she helped me design for my body will fit well and will be fun and flattering. I have made four lovely skirts from the pattern block already and have gotten so many nice compliments on them!" – Dianne
"I absolutely loved Skirt Skills! Brooks Ann brought the concepts of designing and sewing a well-made and well-fitting skirt into an easy and understandable format.

Her down-to-earth and enjoyable nature made watching the videos fun. It also helped me accept my body irregularities with more insight, versus having to rely on what the industry was telling me with poorly fitting clothes. I definitely recommend this class!" – Rebecca
"At first, I was nervous about taking the class; I was worried that I wasn't skilled enough to keep up or diligent enough to actually finish.

Brooks Ann's approach ended up being perfect for me. Her daily videos broke the process into steps that allowed me to focus on one thing at a time instead of getting overwhelmed with too much at once. Plus, it was nice to know that it was easy to get in touch with her if I ran into any issues. By the end of Skirt Skills, I had made a well-fitted skirt based on a pattern I drafted — and was so excited by how it came together that I started planning another skirt." – Jen
"This course was an epiphany.

Though I've been sewing for 35 years, patterns and fit have always been a mystery. Until now. I am also not terribly creative and I am surprised how much fun I've had making my own designs. The possibilities are endless!" – Valerie
"I took Skirt Skills because I wanted to learn pattern drafting.

The process was much less complicated than I had imagined. Brooks Ann's videos were fun and easy to follow. I successfully completed my skirt pattern, and it fit. Perfectly! I look forward to my next online class with Brooks Ann." – Mary
Praise for Brooks Ann…
"Before taking a class with Brooks Ann, I was a "sewing newbie" and felt completely intimidated. Brooks Ann welcomed us all with her humor and kindness.

She never made me feel like I should be in the "Stitching for Dummies" class, instead of hers. She was able to combine her knowledge, skill, and personality to allow me to feel competent, and learn a ton of things I would have never even tried to learn. I now have a full time career in the costuming field!" – Edie
"Brooks Ann is fantastic.

Her teaching style is fun and comfortable.

It's less like being in class and more like having a friend show you a new trick. But make no mistake, this friend seriously knows her stuff. Brooks Ann's knowledge of the field is extensive and her craftsmanship is flawless. If you have the chance to learn from her, do it." – Sara
"Brooks Ann is a FABULOUS teacher. She has the gift of breaking difficult concepts down to an understandable level.

Adults are hard to teach, and she is amazing at this. I never dreamed I could design and construct my own clothing! It has done wonders for my self esteem to learn this skill. – Shannan
"Brooks Ann definitely takes the time to ensure that every detail is discussed and understood before jumping into a task – which is vital when you're feeling apprehensive.

She doesn't have you simply 'follow directions', she helps you 'figure things out'." – Alyssa
"I came to Brooks Ann because I decided to sew my own wedding dress and was becoming very frustrated with the multitudes of information and sewing techniques out there.

Other than a pillow and a couple of children's costumes, I had not sewn much and everyone thought I was crazy for wanting to sew my wedding dress! Brooks Ann, however, believed in me. I feel so comfortable with her process and guidance throughout the past few months that I have added an evening coat to the ensemble and a wedding hat. She's great at breaking things down into simple-to-understand principles that can be applied elsewhere to grow your skills. I get so excited the night before our lessons I can barely sleep!" – Rebecca
"I so appreciate the time and involvement Brooks Ann puts into her students. Her approach is both professional and thought out.

She walks you through the experience, encouraging you and reinforcing every step. She has the gift of a teacher." – Jeanette
"The incredible thing about Brooks Ann's teaching style is that the skills she lovingly bestows become part of your genetic makeup.

Twelve years after she taught me everything I know about sewing, I found myself in a situation that required a seamstress. I literally picked up right where I had left off, seamlessly. (pun intended – ha!) – Lauren